Ecofriendly is good business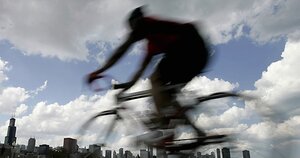 Charles Rex Arbogast/AP/FILE
Who's the greenest of them all? Is it Chicago's Richard Daley, the cycling mayor whose City Hall roof is festooned with flowers, wild onions, and beehives? Or New York Mayor Michael Bloomberg, who turned over two traffic lanes on Broadway, in the heart of Manhattan, to pedestrians and cyclists? Or perhaps it's San Francisco Mayor Gavin Newsom, who planted an organic garden in front of City Hall?
Mayor Daley doesn't mince words: He wants Chicago to be the greenest city in the United States. Mayor Bloomberg aims to "create the first environmentally sustainable 21st-century city." Mayor Newsom goes even further: His "San Francisco of the future" will be "a place where words like 'green' and 'sustainable' are meaningless, because it will simply be understood that any action includes best practices for the environment."
The race is on to be the country's greenest city, and it's much more than a beauty contest. Huge pots of federal money are at stake for public transit and pedestrian-friendly downtowns. And the winners also attract waves of young professionals – the coveted "creative class" – and the businesses that employ them.
---