Green homes: solar vs. energy efficiency
Solar gets more subsidies, but home energy efficiency may be more cost-effective.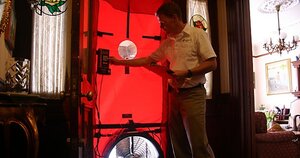 Ben Arnoldy / The Christian Science Monitor
When Ted and Astrid Olsson set out to cut their home electricity bill, they had three strong incentives to buy solar panels: federal, state, and city subsidies. But they shelved the idea in favor of insulating the attic of their San Francisco Victorian.
While it's not as sexy as a rooftop rack of silicon, improving a home's energy efficiency tends to be the more cost-effective way to trim carbon emissions. So why are politicians showering subsidies on residential solar instead?
That's the question posed by Matt Golden, president of Sustainable Spaces, a company specializing in optimizing the energy performance of homes. He convinced the Olssons to think first about energy efficiency, but with every new solar subsidy, it gets harder for him to get homeowners' attention and contracts.
Policymakers say energy efficiency doesn't have out-of-the-box solutions that are easy to mandate or incentivize. Mr. Golden's message: Try harder, or forget about meeting greenhouse-gas goals.
"Everybody strategically understands that energy efficiency is the most cost-effective place for us to spend our capital," says Golden. "We can't afford just to take all these [super-inefficient] houses and put really big solar systems on them that require massive rebates and incentives from the government."
---