In China, overambition reins in eco-city plans
Chongming Island's planned community remains a gleam in the eye. But China is making progress on green design codes.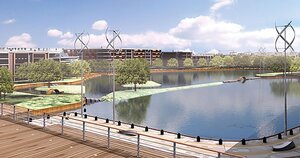 Photo provided by Ove Arup & Partners/MCT/FILE
If all had gone to plan, by now the first residents of China's newest city would be unpacking boxes. An experiment in sustainable living, Dongtan was billed as a urban center where green technologies and smart design could slash the carbon footprint of up to a half-million people.
On recent rainy afternoon, the onsite view was less electrifying: miles of sodden farms and wetlands, and not an ecobuilding to be seen.
It's unclear if any will be built. The state-owned developer has torn up a timetable to accommodate 50,000 residents by 2010. Some permits for the project have already lapsed.
In a country overloaded with environmental challenges, Dongtan is a symbol of political overreach that straddles nearby Shanghai and Britain, the home base of Arup, the firm that dreamed up Dongtan. Its failings show the limits to getting bold ideas off the drawing board, even in China's top-down political culture, where outsized schemes get traction.
Housing's heavy carbon footprint
As the Chinese try to house an urban population that may reach 1 billion by 2030, where and how they live are questions with global repercussions. China is among the world's largest producers of greenhouse gases, and its demand for new buildings further strains resources. One study found that erecting and running buildings accounts for over half of China's energy-related carbon emissions.
The proportion of Chinese living in urban areas more than doubled between 1980 and 2005, to 44 percent. As that trend accelerates over the next 20 years, McKinsey Global Institute predicts that China will need to build almost 40 billion square meters of floor space in some 5 million buildings. Environmentalists fear the planet can't sustain that pace at current levels of energy, water, and soil usage.
---