Eco High: How can I 'green' my school?
Agencies can't agree on a definition, which hobbles preservation efforts.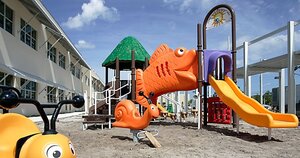 ELIZA GUTIERREZ/NEWSCOM/FILE
Q: I want to persuade my high school to go green. What would it cost for a school to switch to all recycled paper products and all energy-efficient lighting?
– Danel Berman, via e-mail
A: Greening your school is a great idea. It will not only benefit the environment, but the student body as well. According to the "Greening America's Schools" report, sponsored in part by the nonprofit US Green Building Council, green buildings provide a better study and learning environment for students. Improved lighting, air quality, and acoustics are estimated to improve learning abilities and test scores by as much as 5 percent. And what better way to teach young people about environmental stewardship than starting right in the schools where they spend the majority of every weekday?
Since every school is different, there is no universal formula for calculating how much it will cost to go green. Switching to recycled paper, for instance, will not necessarily be cheap. A recent spot-check at a national office supply chain showed that the price for a ream (500 sheets) of 30 percent recycled copy paper cost 20 percent more than a ream with no recycled content. If you chose 100 percent recycled content, you'd pay 35 percent more per ream. But prices vary widely depending upon where you buy paper, and bulk purchasers like schools may be able to negotiate much better prices.
The best way to offset the added costs of switching to recycled paper is to cut paper usage at the same time. Start a program to educate students about how they can reduce paper waste by printing on both sides of a sheet and by not printing as many drafts, for example. You can also encourage your school to switch to e-newsletters instead of paper ones and find other ways to reduce administrative paper use.
---