As electric cars gain currency, Oregon charges ahead
'Green' state is working on plan for public charging stations; Nissan will debut its electric vehicles here.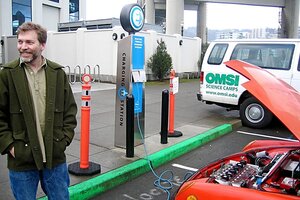 Elizabeth Armstrong Moore
Everything about this place seems clean: the straight-line architecture of the Oregon Museum of Science and Industry; the brightly outfitted cyclists gliding quietly past in their wide, well-marked bike lane; the gentle, lapping sounds of Willamette River, its murky waters conveniently just out of view.
As if to complete the picture, John R.A. Benson, a self-described garage tinkerer, bends over a free charging station in the museum's parking lot and connects his orange 1970 Porsche 914, which he converted to electric in 1997. The 120-volt outlet delivers power generated from renewable resources. After he unplugs his car, he steps in, turns the key, steps on the accelerator, and drives off silently into the morning fog.
Is this the future of the automobile? Maybe. With the electricity costing about a penny a mile, and with the total absence of tailpipe emissions, electric cars are slowly gaining among consumers.
Last November, Oregon became the first state to develop standards for a statewide infrastructure of electric-car plug-in stations in terms of performance, safety, and voltage. The stations should be ready for purchase by interested parties, such as cities and private companies, by the end of the year. Nissan, in turn, announced at the Los Angeles Auto Show that Oregon would be the site for the carmaker's early introduction of its highway-ready electric cars around the same time.
---