Rental-car companies 'green up'
EarthTalk: Many of them now offer hybrid models – for a price.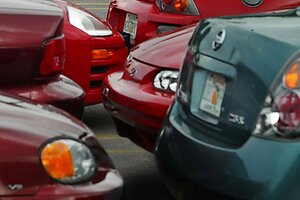 Al Diaz/Miami Herald/Newscom/File
Q: I've heard that most of the big car rental companies have gone "green" lately. What's the story?
– Ari Zucker, New York
A: No doubt, rental car companies large and small have responded to increased consumer demand for fuel efficiency in the last few years by stocking up on gasoline-electric hybrids and other vehicles with better mileage and lower emissions. But whether or not these companies will continue their commitment to fuel efficiency as gas prices fall and consumers begin to look again at bigger cars remains to be seen.
Hertz may have sparked the trend in 2006 when it launched its Green Collection, which includes thousands of fuel-efficient cars such as the Toyota Camry, Ford Fusion, Buick LaCrosse, and Hyundai Sonata. These models, now available at 50 airport rental locations, average 31 miles per gallon (mpg) on the highway, and most carry the US Environmental Protection Agency's (EPA's) SmartWay certification, indicating lower greenhouse gas and other emissions.
---