The school lunchroom grows green
From kindergarten to college, school cafeterias become ecofriendly by banishing trays, growing veggies, and composting waste.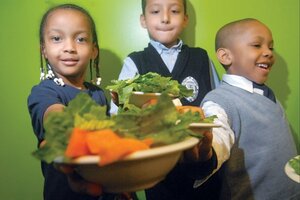 Photos by Stephanie Keith/Special to The Christian Science Monitor
At a private school in Newark, N.J., students dine daily on ingredients grown on the building's roof. In Baltimore, city schools have their own 33-acre organic farm, while in Riverside, Calif., elementary school students trundle wheelbarrows of lettuce and buckets of strawberries from a community garden behind the playground directly to their own salad bar.
Across the United States, efforts to make school lunches more environmentally friendly have paired with the local food movement, as educators try to reconnect children with the growing season. School lunchrooms are also getting revamped to cut water and energy use and lessen food waste.
Although not every college can get all its milk, yogurt, and sour cream from its own herd of cows (as does the University of Illinois at Urbana-Champaign), or cage-free eggs from its own hens (as does Vermont's Green Mountain College), dozens of universities are doing away with that rectangular symbol of the cafeteria: the tray. It's a simple change, but one that school administrators say can dramatically reduce waste.
For example, the University of Illinois studied the environmental impact of eliminating trays in a dining hall that served an average of 1,300 students per day. "Not having trays saves 516 gallons of water a day – that's 110,940 gallons in an academic year," says Kristen Kirsten Ruby, assistant director of housing for marketing.
---