Guilt-free sushi
Environmentalists tout sustainable fish for the dish.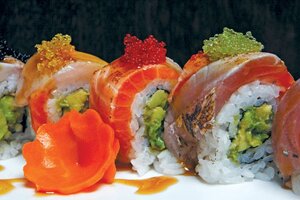 Courtesy of Monterey Bay Aquarium
As consumers' love affair with seafood continues to grow, so does the pressure on populations of popular fish. Many species such as red snapper, Atlantic halibut, West Coast salmon, and cod are considered overfished. And fishing methods, such as bottom trawling for monkfish and other species, can destroy important habitat.
So conservation groups have come up with downloadable and printable guides to seafood that are aimed not only at those who enjoy eating fish, but also the growing legions of sushi fans. Sushi bars and restaurants are expected to continue to grow at 10 to 20 percent annually for the next five years, according to a report in Seafood Business magazine. And sushi isn't confined to restaurants anymore. It's found at mainstream grocery stores and served in college dining halls. It's even sold at convenience stores.
Many of the fish used for sushi – Atlantic bluefin tuna and common octopus, for instance – are not considered environmentally sustainable. Diners who want to avoid bad choices may not know what fish they're really eating, though, since sushi is often given Japanese names.
But some restaurateurs, concerned about dwindling fish populations, are now making it easier for consumers: They're giving the true name of the fish, telling where it came from, and explaining how it was caught. More important, they've taken fish on the "avoid" lists off the menu.
Tataki Sushi and Sake Bar in San Francisco is much more than just a bluefin tuna-free zone, although there's plenty of common catch absent from the menu here – no farm-raised salmon or shrimp, no unagi (freshwater eel), no tuna caught using long lines.
---