Environmental education goes global
Long-established Shelburne Farms program in Vermont sends out ripples worldwide.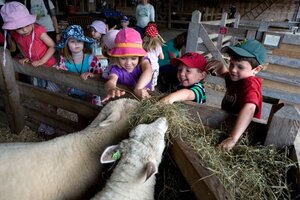 Melanie Stetson Freeman/Staff
A generation ago, kids received "environmental education" mostly through guided walks at local nature centers. Today's "education for sustainability" is a global as well as a local phenomenon – a web of collaborative programs leaping over political boundaries, engaging adults as well as children, and bringing the needs of people into the environmental equation.
Shelburne Farms, an environmental education hotbed in northern Vermont, is a good example of the changes. In 1970, after the first Earth Day, the owners of the 1,400-acre estate built on Lake Champlain during the Gilded Age opened an environmental summer camp.
As it grew, Shelburne Farms began to team up with kindred organizations in Vermont and later across Europe, Central America, and Asia. Its teaching manual, packed with hands-on activities for children, has now been translated into eight languages and is used in 16 countries. Current projects reach into Italy, Hungary, Haiti, the Dominican Republic, Japan, and China.
---