Delisting of wolves raises hackles
With wolves' numbers rising, federal government – and many in West – want to take them off endangered species list. Environmentalists warn that it's too soon.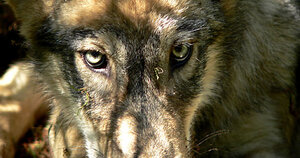 Kent Lauden/Montana Department of Fish, Wildlife, and Parks/AP/FILE
Ever since humankind first huddled around a fire, the eerie howl and piercing amber eyes of wolves have been both fascinating and fearsome.
Today, some of those primal emotions are at play as ranchers and politicians, bureaucrats and environmental activists work out the future of Canis lupus in the northern Rocky Mountains.
Like many contested issues involving wildlife, this one is in federal court. Federal agencies, affected state governments, and ranching and hunting interests say there are so many gray wolves in the Rockies now that it's time to remove them from the list of endangered species.
Wolf advocates say it's too soon to do that, and later this week a federal judge in Missoula, Mont., will decide how the case should proceed.
Once totaling more than 350,000 in the US West, wolves "were hunted and killed with more passion and zeal than any other animal in US history," according to the US Fish and Wildlife Service.
As their numbers dwindled toward extinction in the contiguous 48 states, the gray wolf became protected under the Endangered Species Act (ESA) in 1974.
As part of the federal recovery plan required under the ESA, 66 Canadian wolves were set loose in Yellowstone National Park and part of Idaho in 1995-96. They formed up into breeding pairs and packs, their numbers growing at more than 20 percent a year. Today, more than 1,500 wolves range around Idaho, Montana, and Wyoming. Some crossed the Snake River into Oregon.
---