Do uranium mines belong near Grand Canyon?
Mining companies stake claims on federal land adjoining the park, while opponents say drinking water will be at risk.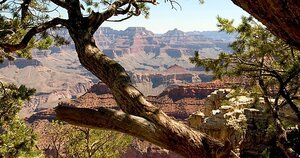 Melanie Stetson Freeman – Staff/File
GRAND CANYON NATIONAL PARK, ARIZ.
On a ragged outcrop just a short walk from a Grand Canyon overlook where millions of visitors annually come to gawk at one of the world's most stunning vistas sits the old Orphan uranium mine. Soil radiation levels around it are 450 times higher than normal. It's encircled by a protective fence.
A sign warns: "Remain behind fence – environmental evaluation in progress." In the canyon hundreds of feet below, another sign by gurgling Horn Creek instructs thirsty hikers not to drink its radioactive water.
Even so, Horn Creek eventually splashes its way to the canyon bottom and into the Colorado River, a vital water source for 25 million people from Las Vegas to Los Angeles to San Diego. In that mighty river, the Orphan's radioactive dribble is diluted to insignificance.
But what if a dozen or even scores of new uranium mines were leaching uranium radioisotopes into this critical water source? That is what Arizona's governor, water authorities in two states, scientists, environmentalists, and Congress are all worried about. Should they be?
Everybody from mining-industry officials to environmentalists agrees that the Orphan mine is a poster child for the bad old days of uranium mining going back to the 1950s. Today's regulations and newer mining techniques make such pollution far less likely, industry officials say, though environmentalists vehemently disagree. The question remains: Is Orphan only a vision of the past – or is it a vision of the future, too?
---
Subscribe to Recharge
Get the Monitor stories you care about delivered to your inbox.