Right whales entangled by politics
To researchers' chagrin, measures that might save more of the rare animals have been held up by the White House.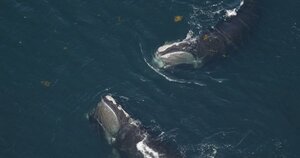 COURTESY OF NOAA
At the New Brunswick Museum, the right whale skeleton is a hit. Children gaze up in awe at the 40-foot-long assembly, which hangs from the ceiling with dinosaurlike grandeur. One boy points out to his mother that she could fit the family car inside its ribcage.
But for right whale researchers, this is more than a skeleton: It's the remains of Delilah, a female whale they'd studied for more than a decade, observing her courtships, the parenting of her first calf, and, sadly, her death in 1993 off Grand Manan Island, 50 miles southwest of here.
"When you study these animals, it definitely gets personal," says Laurie Murison of the Grand Manan Whale and Seabird Research Station. She saw the whale with her calf two weeks before she was struck by a passing ship. "You lose too many that just shouldn't die," she says.
The North Atlantic right whale is one of the most endangered species on Earth, with a population of fewer than 400. Slow, docile, and rich in oils, whalers saw them as the "right" whale to target until the 18th century, when they became too rare to seek out. Despite being protected from hunting for more than a century, it remains on the verge of extinction, with far too many being struck by ships or fatally entangled in fishing gear.
"Basically it's a political decision," says Michael J. Moore of the Woods Hole (Mass.) Oceanographic Institution, who does forensic autopsies of whales. "There are a lot of things we could be doing to help these whales that we apparently are not willing to do."
---