In arid West, a foreign legion of beetles takes on a thirsty invader
Scientists say the beetles released on Southwest riverbanks could tame the water-sucking tamarisk trees.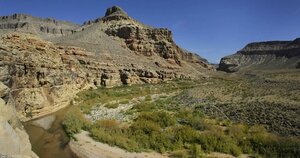 Tony Avelar/ Special to the Christian Sceince Monitor
Armies of foreign beetles are on the march along the river systems of the desert Southwest, and ecologist Tom Dudley greets them as little green liberators.
He is among a group of scientists and land managers who are bringing the beetles to America to wage war on tamarisk, an invasive plant that now dominates the Southwest riverbanks. The program holds out the promise – and potential peril – of shifting the environment in the west for trees, birds, and humans alike.
The tamarisk has become a pariah in these parts for crowding out native willow and cottonwood trees, and worsening wildfires. But it's the plant's thirst that earns it the most ire. By some estimates, the slender-branched shrub uses up more of the Colorado River than the residents of Las Vegas and southern Nevada.
"We wanted to improve the habitat for native vegetation," which has the added benefit of using much less water, "maybe half as much," says Mr. Dudley, a professor at the University of California, Santa Barbara.
That puts ecologists like Dudley, who are interested in repairing stressed habitats, in league with government agencies that want steady and sustainable water sources. Lake Powell and Lake Mead, the water tanks of the Southwest, are below 50 percent capacity after years of drought.
---