A coral farmer's harvest of 'living stones'
Landlocked Steve Lowes raises saltwater corals for the aquarium trade.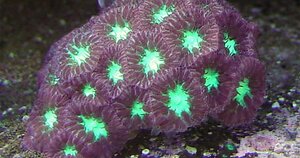 Courtesy of Steve Lowes
Steve Lowes is a coral farmer. He doesn't live on an island in the Caribbean or even within spitting distance of an ocean. Rather, his farming takes place in 100-gallon saltwater tanks in the basement of his neat and tidy house the color of a warm Sargasso Sea in upstate New York. Mr. Lowes, a native of northeastern England, came to New York in the mid-1990s to work for a high-tech pharmaceutical company.
He's a PhD biochemist with a penchant for lovely corals.
Lowes, who grew up landlocked, developed his fascination with corals by watching Jacques Cousteau documentaries as a kid. In college, he learned to scuba dive and began collecting corals from the temperate zones around the world. Since 2002, he's farmed coral in his basement. There, he propagates, nurtures, and then sells his captive-raised livestock – about 50 species of coral – to aquarium supply firms and pet stores throughout the Northeast. His specimens sell for between $10 and $1,000, depending on their rarity. Lowes is one of about a dozen commercial coral farmers in the United States. Captive-raising coral helps limit the amount of coral poached from wild reefs.
---