In New Mexico canyon, a novel way to prevent roadkill
Lobbied by concerned students, the state created a critter-friendly underpass.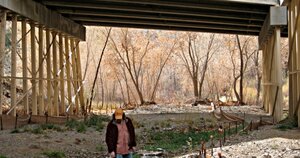 Moises Velasquez-Manoff
In 2003, a group of New Mexico students began lobbying the state legislature to address collisions between vehicles and wildlife. The Wild Friends program at the University of New Mexico's Law School in Albuquerque works with classrooms in Grades 4 through 12 to draft legislation on issues students find important. That year, they decided to tackle vehicle-wildlife collisions, a growing problem nationwide.
"It's an issue that just about every student in the program has experience with," says Carolyn Byers, director of Wild Friends. In New Mexico classrooms, stories abound of such encounters, she says.
The Legislature pledged to address the problem. Subsequent analysis of collision data revealed "hot spots" – areas critical to both people and wildlife where a little mitigation could go a long way. Tijeras Canyon, just east of Albuquerque, was one such place. There, on its journey from California to North Carolina, Interstate 40 passes between the Sandia Mountains to the north and the Manzanitas to the south. The canyon, which also contains a creek – a magnet for thirsty animals – is a critical crossing point for wildlife moving between the two wilderness areas.
---