Can America's West stay wild?
Policy on vast public lands has favored ranchers. Demographics and economics may alter that equation now.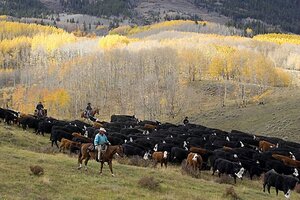 Nathan Bilow/AP/File
In 1993, Washington State classified its Columbia Basin Pygmy rabbit, a burrowing one-pound resident of sagebrush thickets, as endangered. Farming and other human activity had greatly limited the deep-soil habitat available to the bunny.
In 2001, the US Fish and Wildlife Service designated the rabbit, one of only two burrowing species in North America, as "endangered." Alarmed by the animal's continuing decline, that year state officials captured 16 rabbits and began a captive-breeding program to try to ensure the rabbits' continued existence. By 2003, fewer than 30 rabbits lived in the wild, down from 250 in 1995. By 2004, they were all gone.
For many, the disappearance of this tiny denizen of sagebrush thickets is a cautionary tale. Captive breeding programs are a noble last resort, they say. But in this case, not enough was done to save the wild population, they charge. While several factors outside of scientists' direct control contributed to the rabbits' demise – disease, fire, loss of genetic diversity, and habitat fragmentation, in particular – one factor squarely within human control was not addressed soon enough: livestock grazing. Although the state had recognized the rabbit as threatened in 1990, cows weren't taken from the state-owned Sagebrush Flat, the bunny's last known home, until 2001.
Here, the tale of the pygmy rabbit intersects with a long-raging acrimonious debate in the US West. Just over half the land in the West is public land. And what are public lands for – the preservation of "pristine" nature or resource extraction?
---