Conference rejects protection for polar bears
Protection for polar bears – including a ban on trade in their fur and parts – was rejected at a conference of the Convention on International Trade of Endangered Species (CITES).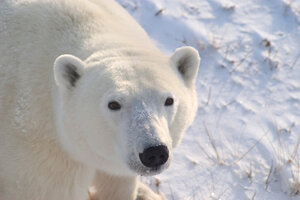 NEWSCOM
A US-led plan to stop international trophy hunting of the polar bear and a flourishing trade in polar bear parts was defeated Thursday at a meeting of the Convention on International Trade in Endangered Species (CITES) in Doha, Qatar.
It was the second major defeat of the day for the US – including a sudden vote and refusal by the 175-nation CITES group to ban international trade in Atlantic bluefin tuna, which is a popular sushi dish worldwide, but especially in Japan.
But while the tuna defeat was a major blow – because the decline was so obvious, and reversing trade it in would so obviously help – US officials said the polar defeat was just a first step.
"It's not uncommon that the first effort to list a species is not success," Tom Strickland, assistant secretary of the Interior for Fish and Wildlife and Parks told reporters in a teleconference. "It requires a sustained effort.... So while we are disappointed with the votes today ... we are heartened by the support around world to up-list the polar bear and bluefin tuna."
For the polar bear, he said, the problem is that their 200,000 square miles of designated "critical habitat" in the US is mostly sea ice that is rapidly melting. That effect of climate change harms the bears' populations. But trophy hunting and the trade in bear parts puts "great pressure" on the bears, Mr. Strickland said.
---