Great white shark population lower than previously believed
Great white shark: Researchers have found that fewer great whites are in the Pacific ocean than previously believed. Other shark species from around the world have also suffered steep population declines like the great white shark's in recent years.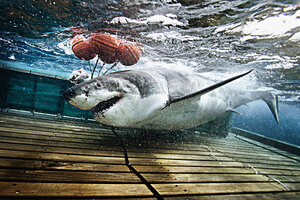 Chris Ross/Chris Fischer/Courtesy of National Geographic Channel
Far fewer great white sharks are cruising the waters off of California than previously thought, according to researchers who conducted a unique shark census in the northeastern Pacific Ocean.
"This low number was a real surprise," said Taylor Chapple, a doctoral student at the University of California, Davis when he led the great white shark study.
"It's lower than we expected, and also substantially smaller than populations of other large marine predators, such as killer whales and polar bears," said Chapple, now a postdoctoral researcher at the Max Planck Institute in Germany.
Counting the great white sharks was a hands-on activity. The researchers went out into the Pacific Ocean in small boats to places where great white sharks congregate, and lured the massive predators into photo range using a seal-shaped decoy on a fishing line.
From 321 photographs of the uniquely jagged edges of the sharks' dorsal fins, they identified 131 individual sharks.
From these data, they used statistical methods to estimate that there are 219 great white sharks in the region.
---