Iceland volcano erupts; sparks concerns of larger eruption at nearby volcano
No immediate reports of injuries or damages from Iceland volcano eruption but scientists worry of larger eruption at nearby Katla volcano.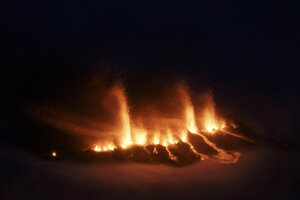 Ragnar Axelsson/AP
A volcano erupted near a glacier in southern Iceland, shooting ash and molten lava into the air and forcing the evacuation Sunday of hundreds of people from a nearby village.
There were no immediate reports of injuries or damage from the volcano but a state of emergency was declared in communities near the Eyjafjallajokull glacier and scientists feared the eruption could trigger a larger and potentially more dangerous eruption at the nearby Katla volcano.
Saturday's eruption, which occurred just before midnight (2000 EDT, 8 p.m.), came weeks after a series of small earthquakes. Television footage showed lava flows along the fissure.
"This was a rather small and peaceful eruption but we are concerned that it could trigger an eruption at the nearby Katla volcano, a vicious volcano that could cause both local and global damage," said Pall Einarsson, a geophysicist at the University of Iceland's Institute of Earth Science.
Authorities evacuated 450 people in the area 160 kilometers (100 miles) southeast of the capital, Reykjavik, said Vidir Reynisson of the Icelandic Civil Protection Department. Evacuation centers were set up near the village of Hella.
The most immediate threat was to livestock because of the caustic gases.
---