Cumberland River flooding causes power outages in Nashville
As the Cumberland River begins to recede, power outages grip Nashville, Tenn.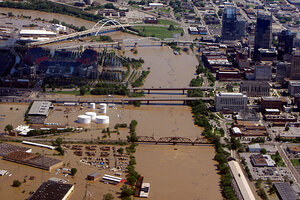 Samuel M. Simpkins/The Tennessean/AP
Flooding overwhelmed utilities in downtown Nashville on Tuesday, knocking out power and water service to thousands, after weekend storms were blamed for more than two dozen deaths.
"Power will be out for the next few days downtown due to water in underground vaults," the city's mayor, Karl Dean, said in a statement. He said 3,500 customers were without electricity.
The Cumberland River burst its banks and submerged several city blocks in Nashville's downtown tourist district in sewage-tainted water.
IN PICTURES: Nashville flooding
Flooding that the U.S. Army Corps of Engineers called a "1,000-year event" also inundated sites such as the Grand Ole Opry entertainment and hotel complex, the football stadium, and one of two water plants serving the city of 626,000 people.
Mayor Dean asked residents to halve water usage, the city's bus service was shut down, and schools were closed for a second day since more than a foot (30 cm) of rain fell over the weekend on parts of Tennessee, Mississippi and Kentucky.
Tennessee reported 19 storm-related deaths, including one from a tornado, Mississippi had six deaths and Kentucky two.
Thousands of people had to be evacuated, many by boat, and road closures were common.
---
Follow Stories Like This
Get the Monitor stories you care about delivered to your inbox.