UK general election: Britons poised to make history
An embattled yet experienced incumbent faces an untested but charismatic Conservative. Also in the mix is a surprise upstart contender.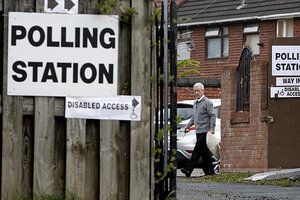 Peter Byrne/PA/AP
Britain was weighing a beleaguered yet experienced incumbent against an untested but charismatic Conservative rival - along with a surprise upstart contender - in an election Thursday that was so close it could yield an uncertain outcome and prolonged political turmoil.
Labour Prime Minister Gordon Brown was trailing in the polls against Conservative David Cameron, with Nick Clegg of the perennial third-place Liberal Democrats gunning for a historic strong showing that could give his party major political clout.
But polls suggested there was a good chance no party would win an absolute majority needed to govern effectively.
The stakes are high: Britain is mired in economic crisis as its financial sector struggles to restore its luster, the nation creaks under mountains of public debt, and Greece's financial crisis threatens to spread across the continent.
A prolonged period of coalition horse trading and rudderless government could spook investors and send the economy into a downward spiral.
Brown doggedly stumped to the bitter end, pounding at the message that he's the safest pair of hands to lead his nation to economic recovery. Cameron finished off his campaign with a 36-hour marathon swing crisscrossing the country, hoping to bring the Conservatives back to power after 13 years in opposition.
---