A Texas exhibit on the life and times of late TV newsman Walter Cronkite
An exhibit chronicling the life and times of the late TV newsman Walter Cronkite is at the Lyndon Baines Johnson Presidential Library at the University of Texas in Austin.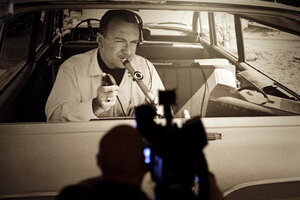 AP Photo/Eric Gay
Walter Cronkite covered the birth of space exploration, John F. Kennedy's assassination and Watergate.
Yet the reporter and television news anchor once known as the "Most Trusted Man in America" never forgot his roots. Shortly after he died last year at age 92, a search of his work desk turned up a neatly folded canvas shoulder bag used for delivering Liberty magazine, which Cronkite sold door-to-door as a child.
"He was a newspaper man at heart," said Don Carleton, curator of the new exhibit "Cronkite: Eyewitness to a Century," which opens Saturday at the LBJ presidential library at the University of Texas.
Carleton believes the bag may be the one Cronkite used to deliver the 5-cent magazine when he was 8 or 9 years old, earning half-a-penny per paper at the start of what would become one of America's most famous journalism careers.
The bag is featured in the exhibit culled from Cronkite's personal archive, which is held by the university's Briscoe Center for American History. It covers Cronkite's life from a budding journalist at the University of Texas — where he dropped out as a junior in 1935 because classes were getting in the way of journalism, Carleton said — to his days as a pioneering broadcast CBS newsman covering presidents and the Vietnam War.
---