Pakistani Taliban gunmen attack Pakistan mosques, kill at least 70
Attacks lasted for three hours and suicide vests packed with explosives were recovered.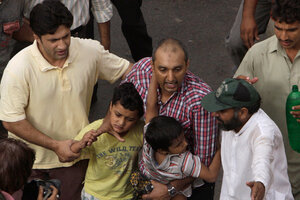 K.M. Chuadary/AP
Gunmen attacked worshippers from a minority Muslim sect in two mosques of the eastern Pakistani city of Lahore on Friday, taking hostages and killing at least 70 people, officials said.
The gunmen opened fire shortly after Friday prayers and threw what could have been grenades at two Ahmadi mosques in residential neighbourhoods in Pakistan's cultural capital.
Sajjad Bhutta, deputy commissioner of Lahore, said at least 70 people had been killed in the twin attacks on mosques in Garhi Shahu and Model Town. A total of 78 were injured.
The death toll at Garhi Shahu was higher, Bhutta said, because three attackers blew themselves up with suicide vests packed with explosives when police tried to enter the building.
Police are still searching the area as two attackers were still at large.
Punjab Chief Minister Shahbaz Sharif said the incidents would generate greater resolve to combat extremism.
"It's a reminder to the nation that Pakistan will achieve its destiny only after we get rid of the worst type of extremism and fundamentalism," he told a news conference. "The entire nation will fight this evil."
He said one attacker had been arrested. Police in Model Town confirmed one gunmen had been arrested and another killed.
There was no immediate claim of responsibility, but suspicion quickly fell on the Pakistani Taliban.
---