Spirit Airlines cancels flights through Tuesday
Spirit Airlines is canceling all of its flights through Tuesday.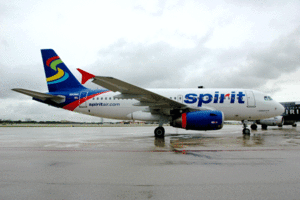 NEWSCOM
Spirit Airlines is canceling all of its flights through Tuesday, stranding thousands more passengers as a pilot's strike continues into its second day.
The discount carrier said on its website Sunday that all Spirit Airlines flights have been cancelled through June 15. Spirit pilots walked off the job Saturday amid an ongoing contract dispute with the airline that has lasted for more than three years. Spirit pilots have said their pay lags behind competitors such as AirTran Airways and JetBlue.
"None of the planes are moving and none of our pilots have crossed the picket line," Paul Hopkins, strike committee chairman of Spirit's unit of The Air Line Pilots Association, said Sunday.
The privately held airline, based in Miramar, Fla., carries 16,680 passengers per day — about 1 percent of the U.S. total — mostly between the eastern U.S. and the Caribbean and Latin America. Spirit's CEO said this weekend that no talks were scheduled with picketing pilots.
The shutdown continues to cause major problems for Spirit's flyers. The airline said it is refunding fares for flights Saturday through Tuesday plus offering a $100 credit toward future flights as it tries to get its passengers booked onto other airlines.
---