Hot in Cleveland: A Golden Girls for the new millenium?
Hot in Cleveland, which stars comic veterans Betty White, Valerie Bertinelli, Jane Leeves, and Wendie Malick, debuts this week on TV Land.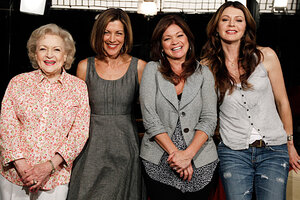 Matt Sayles/AP
It's a sitcom about four single women of a certain age, portrayed by an ensemble that includes Betty White.
"Hot in Cleveland," which debuts this week on TV Land, is not officially "The Golden Girls" redux. But the similarities don't end with the set up. Just as White shared top billing with three golden character actresses (Bea Arthur, Rue McClanahan and Estelle Getty), she now works with another trio of established comedy veterans: Valerie Bertinelli ("One Day at a Time"); Jane Leeves ("Frasier"); and Wendie Malick ("Just Shoot Me!").
The four recently sat for an interview with The Associated Press on a key set for the series: the bar where three fifty-somethings (played by Bertinelli, 50; Leeves, 49; and Malick, 59) discover that while they may be past their prime in hometown Los Angeles, they are still "hot" in Cleveland. And, with that realization, they decide to stay there, moving into a house that comes complete with its own caretaker (White, 88).
---