Tiger Woods battles bad putts, heckler en route to posting 74
Tiger Woods had a mediocre day at the U.S. Open at Pebble Beach on Thursday.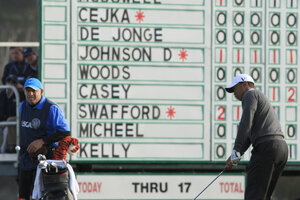 NEWSCOM
There's a lot left to find out about Tiger Woods, a lot more we want to know.
He remains an enigma on spikes, stubbornly private through times both spectacular and scandalous. The tabloids still can't find out if he's getting divorced, and sports writers might as well read tea leaves as ask him about the state of his game.
But a few things did become clear about Woods as he made his way around Pebble Beach on a gorgeous afternoon on the edge of the Pacific.
His game, like his life, is different now. And he's not going to win this U.S. Open by 15 shots.
May not win it at all, though he fared better in his opening effort than his co-favorite, a certain Lefty who made his mark at the Masters as the anti-Tiger. Phil Mickelson hit two balls into the Pacific, couldn't sniff a birdie putt, and staggered in with a first-round 75 that will take some work to recover from.
Woods, meanwhile, was simply mediocre. That's not necessarily a bad thing at the Open, but it is if your name is Tiger Woods and the course is Pebble Beach.
It was here 10 years ago that he shot 65 in the opening round to make a statement that the Open was his. It was here that he ran away with the national championship by 15 shots in an epic performance that will live long in golf lore.
And it's here that he came this week with hopes of finally escaping from the funk on the golf course that started with the infamous funk in his personal life.
It didn't happen Thursday, when a promising start from tee and fairway was negated by a dismal day on the greens. And it's not likely to happen this week if Woods continues to fritter away chances like he did in an opening round when he didn't make even one birdie and finished with a 74.
---