Michael Jackson children just like normal kids, says attorney
Michael Jackson kids -- Prince, Paris, and Blanket -- are normal kids full of fun and pranks, according to lawyer.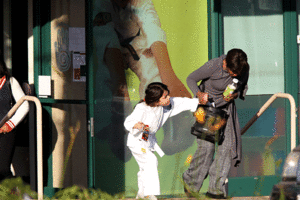 NEWSCOM/FILE
They are show business royalty, heirs of the King of Pop. Someday, they will be very rich. But a year after their father Michael Jackson's death, Prince, Paris and Blanket Jackson are normal kids full of fun and pranks, devoted to each other and to their grandmother who is their guardian, according to a lawyer who sees them frequently.
They talk about their father and his presence is everywhere in the ranch-style house in the San Fernando Valley where they live. Pictures and memorabilia adorn the walls. The gated compound has additional residences where other members of the family have lived over the years.
"The children are seemingly as normal as normal can be under pretty extraordinary circumstances," says Adam Streisand, the lawyer who represents Katherine Jackson and a frequent visitor to the compound where she lives with the children. He provided an account of life inside their guarded world in an interview with The Associated Press.
The large Jackson family, including eight of Michael's siblings and their families, has been a source of emotional support for the children, who frequently play with their cousins, Streisand says. And over the past year, Michael Jackson's parents, children and siblings have moved on with their lives in a world with his music but without him.
---