Green Hornet: A new twist or same old Hollywood garbage?
Green Hornet mania is sweeping the blogosphere, as the first trailer for the masked superhero – played by Seth Rogen – is now available for public consumption. But will the movie be like every other action comedy, or will it break new ground?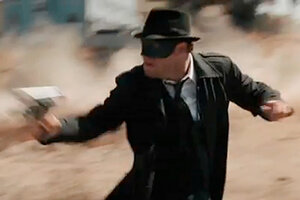 Youtube screenshot
Green Hornet fans are holding their breath this week as a the trailer for a new movie based on the 1930s radio serial hits the Web. Slated for release in January 2011 and starring Seth Rogen as the title character and Taiwanese pop star Jay Chou as his stoic manservant Kato, "The Green Hornet" will also feature Cameron Diaz and acclaimed "Inglourious Basterds" baddie Christoph Waltz. And, naturally, it will be in 3-D.
As the trailer shows, Rogen stars as an over-privileged newspaper scion who has to face responsibility after his father is murdered. He responds to this tragedy in true superhero form: He dons a mask and a fedora, teams up with a Kung-Fu fighting manservant, and rolls through Los Angeles in "Black Beauty," a 1965 Chrysler Imperial outfitted with machine guns and rockets.
---