Nikki Haley wins GOP nomination for governor in South Carolina
Nikki Haley, with the help of Tea Party activists and Sarah Palin, overtook the old boy network to win the GOP runoff.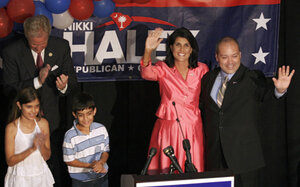 AP
In a break from the state's racist legacy, South Carolina Republicans overwhelmingly chose Nikki Haley, an Indian-American woman, to run for governor and easily nominated Tim Scott, in line to become the former Confederate stronghold's first black GOP congressman in more than a century.
Six-term Republican Rep. Bob Inglis fell to prosecutor Trey Gowdy, making him the fifth House or Senate incumbent to stumble this year.
In North Carolina, Secretary of State Elaine Marshall won the Democratic nomination to challenge GOP Sen. Richard Burr in the fall. Attorney Mike Lee took a slim early lead as Utah Republicans chose a GOP successor to vanquished Sen. Bob Bennett in a state that hasn't elected a Democratic senator in four decades. In Mississippi, voters tapped Republican Bill Marcy to face Rep. Bennie Thompson.
Taken together, the victories by Haley and Scott — both favorites for the general election in November — offered clear signs of racial progress in the South.
---