Grizzly bear attacks Alaska biologist twice; biologist not upset at bear
Grizzly bear went back for seconds on an Alaskan biologist. The biologist survived and harbors no ill-feelings toward the grizzly bear.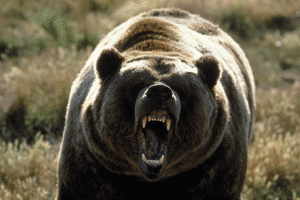 NEWSCOM/FILE
The bearded, sandy-haired geologist was on a job in the remote Alaska wilderness when a grizzly bear suddenly emerged from the brush just yards away.
So Robert Miller did what he was trained to do — he fell to the ground, clasped his hands around his neck to protect it and played dead.
The bear wandered away and Miller thought he was in the clear. Pulling himself to his knees, he found out how wrong he was.
The bear charged again and "this time he didn't want me to move. He was really thrashing me around," the 54-year-old said Wednesday from his hospital bed, his right arm and leg swathed in bandages, his left ear criss-crossed by stitches.
Miller had been out scoping possible mining projects Sunday for his employer, Millrock Resources Inc., in a remote valley of the Alaska Range mountains near the Iditarod sled dog race trail. He'd finished for the day and was waiting for a helicopter to pick him up.
Miller was clearing brush with a handsaw so the helicopter could land, when the bear appeared about 25 feet (7.6 meters) away.
"When he stepped into the clearing he didn't snarl and stand up and show me how big he was. He just came for me," Miller said.
Miller managed to pull out his .357 Magnum revolver and squeeze off a single shot, possibly grazing the animal. Then his survival training kicked in: He fell onto his stomach, dug his face into the dirt and covered his neck with his hands to protect it from the grizzly's claws and teeth.
The bear went for his exposed right arm, gnawing and clawing it and chipping the bone off the tip of his elbow. The attack lasted 10-15 seconds, then the animal lumbered away.
"I thought it was over, I thought he was gone," Miller said.
He rolled over and was getting to his knees when the bear, which was only about 40 yards (meters) away, came at him again.
---