Tiger Woods, Phil, Ernie all miss big opportunity at US Open
Tiger Woods had the most to gain by winning the US Open. But a US Open win would have been the first for Phil Mickelson. And for Ernie Els, a chance to stay relevant.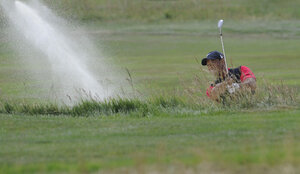 NEWSCOM
Even with 21 majors, they still had everything to gain by winning the U.S. Open.
For Tiger Woods, a chance to end six months of bad publicity with a 15th major. For Phil Mickelson, a golden opportunity to win something other than silver in the U.S. Open. For Ernie Els, a much-needed reminder that his best golf in the majors is not behind him.
Forgetting about Sunday at Pebble will not be easy.
Woods didn't know this when he started the final round with a three-putt bogey, but he had to shoot only par-71 to join Jack Nicklaus, Ben Hogan and Bobby Jones as four-time U.S. Open champions.
He shot 75 and remains tied with Hale Irwin.
Els was tied for the lead in the final round, for about only 15 minutes, but he had not been in that position at a major in six years. Worse than his bogey-double bogey-bogey stretch along the coast was missing three putts inside 8 feet in a four-hole stretch late in the round.
As for Mickelson?
---