Robert Byrd, longest-serving member of Congress, died on Monday
West Virginia Democrat Robert Byrd had been in Congress since 1953. He won his ninth term to the US Senate in 2006.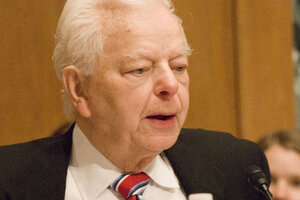 NEWSCOM/FILE
Sen. Robert Byrd of West Virginia, a fiery orator versed in the classics and a hard-charging power broker who steered billions of federal dollars to the state of his Depression-era upbringing, died Monday.
Byrd, a Democrat, was the longest-serving senator in history, holding his seat for more than 50 years. He was the Senate's majority leader for six of those years and was third in the line of succession to the presidency, behind House Speaker Nancy Pelosi.
Sen. Jay Rockefeller, a fellow West Virginian in the Senate, said it was his "greatest privilege" to serve with Byrd.
IN PICTURE: Senator Robert Byrd through the years
"I looked up to him, I fought next to him, and I am deeply saddened that he is gone," Rockefeller said.
The Senate Republican leader, Mitch McConnell of Kentucky, said Byrd "combined a devotion to the US Constitution with a deep learning of history to defend the interests of his state and the traditions of the Senate."
"We will remember him for his fighter's spirit, his abiding faith, and for the many times he recalled the Senate to its purposes," McConnell said.
---