Behind Google's move, a growing rivalry with Apple
Google CEO Eric Schmidt resigned from Apple's board Monday, reflecting increased competition between the two companies as Google expands beyond search.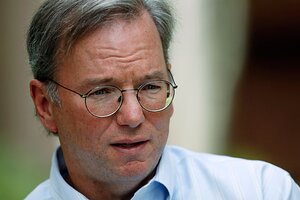 Rick Wilking/Reuters
Google wants to be more than the Web's favorite search engine. But while it prevails in the lucrative world of answering online queries, can it compete with Microsoft's Windows and Apple's iPhone, too?
Two developments Monday show that Google is certainly moving aggressively to challenge Microsoft and Apple in areas both consider their bread-and-butter businesses.
The same day Apple announced that Google CEO Eric Schmidt was resigning from its board of directors because of increasing conflicts of interest, Google announced a new advertising campaign – "Going Google" – that is meant to convince businesses to consider its growing suit of software applications.
"What's this all mean for Apple, Google and consumers?" asks PC World blogger Todd Weiss. More innovation, more competition, and "more cool things coming from both companies in the future."
---