Augustine report: tough choices ahead on human spaceflight
If NASA's Constellation program is going to take astronauts to the moon or Mars, Obama will have to increase its budget, the Augustine report says.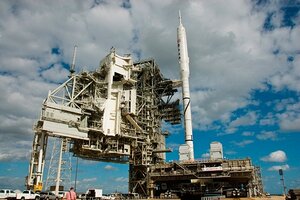 NASA handout/Reuters
President Obama and Congress face a stark choice on the future of NASA's human spaceflight program: Either scale back ambitious goals first set out in 2005 or pony up more money to match the ambitions.
That's the implication of options set out in the final report from the Review of US Human Spaceflight Plans committee, unveiled Thursday afternoon.
NASA's current path, as set by former President George W. Bush, aims to return astronauts to the moon. The political fight will likely be over whether to continue on that path or to shift to a different lineup of rockets and destinations.
"The human spaceflight program that the United States is currently pursuing is ... on an unsustainable trajectory," said panel chairman Normal Augustine in summarizing the 157-page report Thursday afternoon at a press briefing in Washington.
The latest document's key points appeared in a summary presented to the White House and NASA Sept. 8. After deliberating over the summer, the 10 members – ranging from former astronauts and current and former aerospace executives to academics – settled on three broad paths the US could follow.
One option: building a rocket to nowhere?
One broad class of options involves sticking close to the original program and funding levels. But that would result in NASA building rockets to nowhere, the panel projected. NASA's replacements for the space shuttle are the Ares 1 and its crew capsule, and a more powerful Ares 5 rocket. Ares 1 is unlikely to be ready before 2017, according to the panel. If NASA shuts down the space station in 2015, Ares 1 would have no destination. If NASA shuts down the station in 2020, Ares 1 would have nowhere to launch to after 2020. Either way, Ares 1 would be a rocket with no clear destination. And NASA wouldn't have the money to fill out the rest of its lunar agenda.
Second option: more money
---
Follow Stories Like This
Get the Monitor stories you care about delivered to your inbox.