Verizon iPhone release date closing in fast
Verizon iPhone release date is just around the corner. But will AT&T customers jump ship once the Verizon iPhone release date arrives?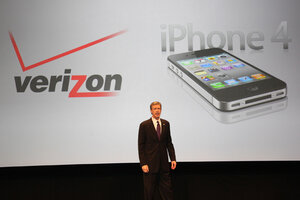 PRNewsFoto/Verizon Wireless/Joe Vericker
After years of rumors, questions, and frustrations from some AT&T customers, the Verizon iPhone is real. America's largest cellular network announced Tuesday that it will soon carry America's most popular cellphone.
Now that the partnership is official, the most important question is: When?
The Verizon iPhone release date will be February 10. Current Verizon customers may pre-order the phone on February 3.
Price tags range from $199 for the 16GB model, $299 for 32GB.
The Verizon handset will be the same iPhone 4 offered to AT&T customers, with a few interesting tweaks. (Check out our full breakdown of how the Verizon iPhone differs from the AT&T iPhone.)
---
Follow Stories Like This
Get the Monitor stories you care about delivered to your inbox.