Post oil: Microloans and cooking oil green-up 'jeepneys'
An engineer says microloans and cooking oil can make over a fleet of old jeepney buses, and a city in the Philippines is ready to jump on board.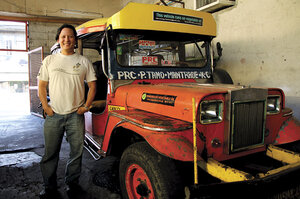 Tina Pamintuan
Filipino life relies on "jeepneys." Riding one to work or school is routine for most people here. The eclectic utility vehicles – a mash-up of jeep and jitney – attract passengers with their flashy ornaments and bold paint jobs. However, for all their color, these small buses are decidedly not green.
With 15-to-20-year-old engines that are far from fuel-efficient, jeepneys exhale a sizable share of the country's carbon emissions.
That's why engineer Chips Guevera set out to convince jeepney owners in the Philippines to convert their diesel engines to run on filtered cooking oil.
Shrinking the industry's carbon footprint, he says, could improve air quality and curb the country's fossil fuel consumption.
"It's a no-brainer," he says in his small garage in Makati, one of 17 cities that make up metro Manila. "The costs are lower and it's better for the environment."
Mr. Guevera, who also sells the recycled and filtered fuel, touts how used cooking oil around Manila is already cheaper than diesel. Still, it's difficult to convince owners to take a risk on something new, especially when most can't afford the conversion kit that his company, Alterenergy Systems, sells.
While Guevera spreads the message in the nation's capital, he's inspired a nearby city to take matters into its own hands and to nudge jeepney owners toward a petrol-free future.
The government of Tanauan, a few hours south of Manila, has teamed up with one of the country's major banks to create a special program that will lend drivers the money needed to convert their vehicles. Already, the city council has set aside 600,000 Filipino pesos ($13,800) to fund a pilot program for 10 jeepneys.
---