Smartphones: The best way to watch the Super Bowl?
Smartphones will get not only a live broadcast of this year's Super Bowl, but also additional camera angles, live stats, and replays of any ad. But are smartphones' small screens a disqualification for many viewers?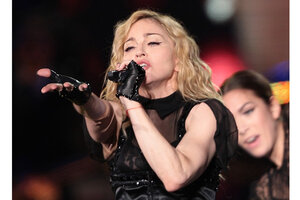 Srdjan Ilic/AP/File
The biggest draw in television is going mobile.
The Super Bowl will be streamed online and to smartphones for the first time, the NFL said Tuesday. NBC's broadcasts of wild card Saturday, the Pro Bowl and the Super Bowl will be available on the league's and network's websites and through Verizon's NFL Mobile smartphone app.
The service will include additional camera angles, in-game highlights and live stats — and replays of those always popular Super Bowl ads.
NBC has been streaming its "Sunday Night Football" telecasts for four seasons, and what the network has found is it's not just being used by fans who can't get in front of a set. Many of the page views come from people using the service as a complement to watching the game on TV.
That certainly would seem likely for the Super Bowl on Feb. 5 from Indianapolis. The game is annually by far the biggest attraction on television, with last season's Packers-Steelers matchup drawing a record U.S. audience for any show with 111 million viewers.
---