After Facebook Graph Search announcement, new discussion of privacy
Facebook has released a new semantic search engine called Graph Search. So what does that mean for Facebook users?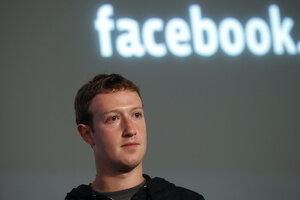 Reuters
Earlier this week, Facebook CEO Mark Zuckerberg took the wraps off a Facebook search feature called Graph Search, which harnesses data from your friends' feeds and turns all of Facebook into one giant recommendation engine. Want tips on the best Chinese restaurant within walking distance of your apartment? Done. Want to find Star Wars fans in your area? You can have that too.
"You can find people based on things they've shared with you, including their interests and profile info," Facebook reps wrote on the Graph Search promo page. "You'll see results for friends who share their city with you, people whose city is set to Public, and suggested results based on info shared with you."
Facebook has been extremely careful to stress that Graph Search will not fundamentally affect user privacy: Folks who have zealously guarded their personal information in the past can continue to do so once the new search engine is fully up and running. (It's in beta now.) But as Josh Wolford notes over at WebProNews, it's not quite as simple as that.
Here's Wolford:
You probably don't know this, but as of now, you are unable to opt out of being featured in Facebook search results. You used to be able to do this, but as of mid-December, this option has been taken away from you... What Facebook has done is disallow users to remove themselves from search a month before releasing a giant new product that relies on user visibility in search. For the Graph Search to be useful to anyone, people have to appear in the results. When I search "people who went to Harvard and like The Winklevoss Twins," I expect to turn up at least some results from people whose info is set to public, or "friends of friends." Well played, Facebook.
---