Samsung Galaxy S IV, due this month, could get eye-tracking tech
The Samsung Galaxy S IV may be equipped with sensors that track the movement of your eye and adjust the display accordingly.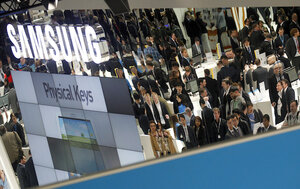 Reuters
On March 14, Samsung will unveil its new flagship smart phone.
The Galaxy S IV – or Galaxy S4, if you prefer – is being watched very carefully in the tech world, and or good reason: Its predecessor, the Galaxy S III, has been one of the only phones in recent memory to really challenge the supremacy of the Apple iPhone. Not only did the Galaxy S III beat out the iPhone 5 in CNET's annual list of best tech products of 2012, but it also beat out the iPhone 5 on the sales charts in the third quarter of 2012 – no mean feat.
With the launch of the Galaxy S IV, Samsung could be looking at the solidification of a real dynasty.
And today, we got an intriguing peek at the features on the forthcoming device, courtesy of the New York Times. According to Times reporter Brian X. Chen, the Galaxy S IV may include a feature that tracks the motion of our eyeballs, and readjusts the text correspondingly. "For example," Chen writes, "when users read articles and their eyes reach the bottom of the page, the software will automatically scroll down to reveal the next paragraphs of text."
---