Leonhard Euler: Prolific writer, pioneering mathematician, and theorist nonpareil
The Google homepage today honors the mathematician Leonhard Euler, who was born 306 years ago today.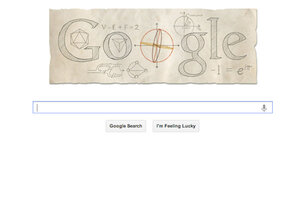 Google
The Google homepage today features a scrap of paper covered in pencil-drawn equations, including a polyhedron formula, V-E+F=2.
No, the doodle isn't a ripped-out page from a Google staffer's 11th grade math homework. Instead, it's an homage to the Swiss mathematician Leonhard Euler, who was born in the city of Basel 306 years ago today.
So who was Euler, exactly? Well, for one, he was the man responsible for the polyhedron theorem identified above. He was also the author of more than 900 works on mathematics, making him, in the words of the Guardian, "the most prolific mathematician of all time."
Euler was raised in Riehen, near Basel, by a religious family – his father, Paul Euler, was a pastor, and his mother, Marguerite Brucker, was herself the daughter of a pastor. Paul Euler had a basic understanding of mathematics, which he passed on to his son, and at the age of 14, Leonhard officially enrolled at the University of Basel.
There, the younger Euler demonstrated a preternatural grasp of math, and spent much time with Johann Bernoulli, a contemporary Swiss mathematician.
"True, he was very busy and so refused flatly to give me private lessons," Euler later wrote of Bernoulli, "but he gave me much more valuable advice to start reading more difficult mathematical books on my own and to study them as diligently as I could; if I came across some obstacle or difficulty, I was given permission to visit him freely every Sunday afternoon and he kindly explained to me everything I could not understand."
---