What caused the 19-hour Internet blackout in Syria?
State media reports blame the outage on a failure in a key optical cable. Others aren't so sure.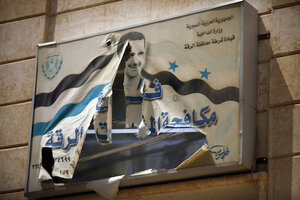 Reuters
After a 19 hour blackout, Internet service in Syria appears to finally be restored.
The outage, which reportedly affected the entire country, was initially noted on Tuesday night, and confirmed by Google and the digital security company Umbrella. But by early Wednesday afternoon, many Syrian websites were up and running again.
So what caused the outage? Well, according to Al Jazeera, the state news agency in Syria blamed the whole thing on a "fault in optical fibre cables." But many analysts are skeptical about that explanation.
"Our monitoring shows that Syria's international internet connectivity is through at least four providers, and published submarine cable maps show connectivity through three active cables," David Belson of Akamai told the BBC. "As such, the failure of a single optical cable is unlikely to cause a complete internet outage for the country."
Instead, much speculation has centered on the possibility that Syrian President Bashar al-Assad ordered the blackout, in order to damp down on the Web activity of rebel groups.
---