Education tech start-ups: No longer the 'sleepy' crowd
Ed tech start-up companies are creating serious buzz and investments for a serious problem: education. But can innovative tech lead to innovative education?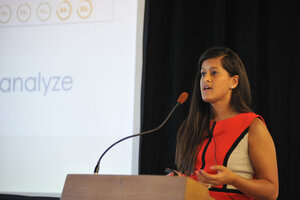 LearnLaunchX
A recent start-up event showcased something not everyone associates with business or technology: education.
Ben Levy, a former Teach For America teacher, showed off eduCanon, an interactive video program that aims to eliminate the classroom "zone-out effect." Monica Brady-Myerov, a former public radio reporter, introduced Listen Edition, classroom lessons that use public radio to teach the National Governors Association's Common Core standards. Dee Kanejiya, a speech recognition researcher, demonstrated Cognii, a program that uses speech recognition to guide students to answer complex questions without the help of a tutor. And they all were aiming to do something truly innovative: make education beneficial to students and profitable to investors.
Welcome to the new intersection of technology, education, and business: start-ups that focus on education technology, or ed tech. These "edupreneurs" chip away at the massive issue of education reform one byte at a time. Investments in the ed tech industry are booming, but it remains to be seen what this means for the future of education.
Most anything that combines technology and education falls under the ed tech umbrella – from iPads in K-12 classrooms to MOOCs (massive online open courses) to an app that sells textbooks.
---