The 'holy grail' of biofuels now in sight
Long-promised cellulosic ethanol is in modest production, but hurdles remain.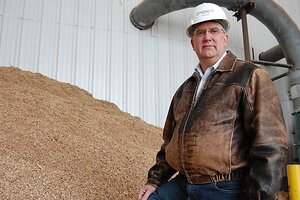 Mark Clayton
With one foot planted in a pile of corn cobs, Mark Stowers explains how agricultural waste, transformed into ethanol, will turbocharge the US economy, boost its energy security, and help save the planet, too.
This holy grail of biofuels, called cellulosic ethanol, has been "five years from commercialization" for so long that even Dr. Stowers admits it's become a joke.
But now the research director for POET, the nation's largest ethanolmaker, based in Sioux Falls, S.D., says that despite bad economic news and major obstacles, cellulosic's time is near. Other scientists agree.
Corn-based ethanol, which many critics argue does not do enough to slow climate change, is nearing US production limits. In Washington, cellulosic ethanol is gaining political traction. And cellulosic technology seems ready for prime time – at last.
'Cellulosic ethanol is real'
The proof, Stowers says, lies inside a nearby windowless, high-roofed single-story metal building. Filled with a maze of pipes and vats, this $8 million test facility is a miniature cellulosic ethanol plant that pumps out 20,000 gallons a year of nearly clear alcohol extracted from cobs like the ones beneath his feet.
"This pilot plant shows cellulosic ethanol is real – that the technology is here," Stowers says. "Ultimately, cellulosic will allow us to make significant inroads to replacing oil for our nation's gasoline needs."
The 2007 Energy Inde­pen­dence and Security Act Renewable Fuels Standard (RFS) calls for boosting production of biofuels to 36 billion gallons a year by 2022 – about 15 billion gallons of it corn ethanol, the rest cellulosic. (By contrast, the US produced about 9 billion gallons of corn ethanol last year.) That would replace about one-fifth of the nation's gasoline needs without displa­cing current crops.
---