BlackBerry Storm: more thunder than lighting?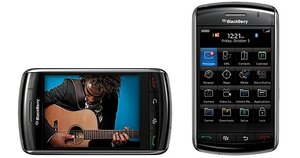 RIM
After two years of development and $100 million in advertisements, the BlackBerry Storm gets its first real report card Tuesday. Verizon Wireless, the exclusive US carrier for RIM's smartphone, issues its earnings report tomorrow. Analysts and investors will pay keen attention to the Storm's scores, wondering how it's faring against the iPhone.
This is a bad time for many tech companies. Sony and Samsung reported their first losses ever. Microsoft cut 5,000 jobs, with computer, Vista, and Zune sales slumping. This morning, electronics-maker Philips said it will slash 6,000 jobs after losing $1.9 billion during the last quarter of 2008.
On top of this bad market moment, critics have rained on the Storm for spotty software and a finicky touchscreen that made some wish BlackBerry had never strayed from physical keyboards. The Wall Street Journal quoted an unhappy customer saying:
---