Twitter as customer service shortcut?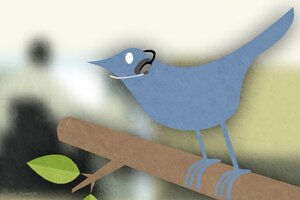 Jake Turcotte/CSMonitor.com
Tweet your troubles away.
Everyone's least favorite microblogging site is a great place to find out what your friends are having for lunch, what's happening at that amazing tech conference you didn't attend, and how delayed your coworker's flight back from the Caribbean just happens to be. But turns out it's pretty good for getting customer service issues resolved, too.
You see, it's not just tech bloggers (follow us!), professional cyclists, and former presidential candidates who are using Twitter these days. Comcast has an account (@ComcastCares). So do Bank of America (@BofA_help), Dish Network (@dishnetwork), JetBlue (@JetBlue), and a host of others.
But even if you can't find your [least] favorite company on Twitter, tweeting about a less-than-stellar customer service experience could get you traction. As the service has taken off – now up to more than 8 million users – brands have begun to pay attention to the impact of negative buzz in the (oh gosh, I'm about to say it) ... twittersphere. In example after example, tweets are getting results.
---
Follow Stories Like This
Get the Monitor stories you care about delivered to your inbox.