Today's top 5 April Fools gags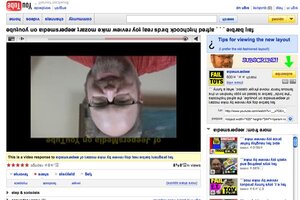 Screenshot of YouTube.com
April 1 is always a big day for Web companies. Every year, Google, Digg, and the rest of the Web 2.0 elite exercise their funny bone and craft some amazing spoofs.
Here are our five favorites for 2009.
The Guardian ditches print, switches to Twitter: A week after the Monitor moved its daily publication to online-only, Britain's Guardian announced it, too, would turn its back on paper. Its new format: Twitter. In this fast-paced world, what better way to get your news than in 140-character chunks? This new-media strategy extends to their archives as well. For example:
The only web browser with facial control: Indie browser Opera unveiled its plan to let users surf the Web through facial gestures. Squint to scroll down. Blink to open a new tab. Stick out your tongue to bookmark a page. Check out the video tutorial:
Qualcomm's new cellular network: The mobile-phone gurus revealed their new plan for telecommunication. They'll insert tiny receivers into flocks of pigeons, providing phone coverage anywhere they fly. But how do you protect these valuable birds from natural predators? Qualcomm used gene-splicing to create pigeons with wolf heads, falcons with shark snouts, and eagles with crocodile craniums. Here's their pitch video:
---
Follow Stories Like This
Get the Monitor stories you care about delivered to your inbox.