Horizon highlights – Day at the races edition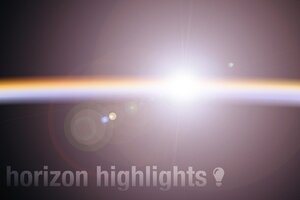 Jake Turcotte
Our regular roundup of sci-tech stories from across the Web includes: Races in Twitter. Races among electric cars. Races to defend against cyber attacks. Let's kick it off:
High-speed rail: Can it work in the US?
"The symmetry is nice. A half-century ago, President Eisenhower pushed for interstate highways, which connected America, boosted the economy, and helped give the heave-ho to the nation's passenger-rail system. On Thursday, President Obama announced he wants to connect America, boost the economy, and help give the heave-ho to the nation's interstate-highway travel with a high-speed passenger-rail system that … Hey, wait a minute! Is this back-to-the-future government policy?" [via CSM's The New Economy blog]
Video: World's quickest street-legal e-car – a 1972 Datsun?
"We've given a lot of pixels to electric cars recently, especially the hot Tesla Roadster. But there's one electric car that can dust the Tesla and all the others off the line. It's a 1972 Datsun." [via Oregon Public Broadcasting]
Web celebrity: YouTube's Fred is first online video star to break 1M subscribers
"In less than a year, the child phenom – portrayed by 15-year-old Nebraskan Lucas Cruikshank – has passed every other filmmaker, artist, company and silly cat on YouTube to become the most subscribed-to act." [via LATimes]
---
Follow Stories Like This
Get the Monitor stories you care about delivered to your inbox.