Could Amazon save the newspaper? Not by itself.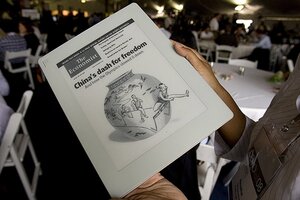 Newscom
In a move that has stirred up the blogosphere into a frothing, foaming frenzy, Amazon has hinted that it could introduce a big-screen Kindle by Wednesday. Several other companies are developing similar devices, the New York Times is reporting, including Plastic Logic:
These devices from Amazon and other manufacturers offer an almost irresistible proposition to newspaper and magazine industries. They would allow publishers to save millions on the cost of printing and distributing their publications, at precisely a time when their businesses are under historic levels of pressure.
Let's have some calm, people
This news is being received ecstatically just about everywhere – especially, apparently, in the New York Times newsroom. But let's not get ahead of ourselves. If the regular Kindle hasn't singlehandedly saved publishing (yes, it's still in the soup), how could the plus-sized Kindle save newspapers?
No silver bullet
---