Google polishes Chrome, Microsoft calls foul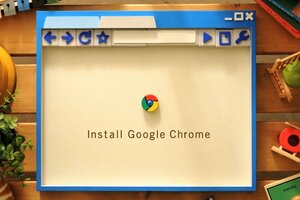 Screen shot of Google's Chrome ad
Google may be known for search. But its billions came from cornering the online ad market.
So the tech press enjoyed a touch of irony when the Web giant commissioned its first TV ad. "What does it mean when a company that built its empire on Internet advertising decides to turn to another medium to promote its own products?" chuckled Ars Technica.
This 30-second spot promotes an odd branch of the Google family tree: Chrome, its fledgling web browser.
The ad's tone is inexplicable, yet somehow appropriate. Google has always portrayed itself as a company that plays well with others. It couldn't adopt Apple's light-hearted smugness or Microsoft's fake candid moments. Instead, the Chrome ad seems to have been filmed in the corner of a kindergarten classroom. It's playful and colorful (much like Google's logo) but only lightly alludes to what Chrome actually does.
Google has done a lot to buff its browser recently. It regularly talks up the program's speed, helpful updates, and growing developer community. But despite plenty of buzz among early adopters, Chrome holds a measly 1 percent market share.
---