Education video or harbinger of Marxist revolution? We report, you decide.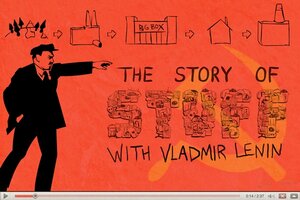 Illustration by Jake Turcotte
"This is community-college Marxism in a pony tail," Chris Horner, a senior fellow at the Competitive Enterprise Institute told FoxNews.com this week.
His pony-tailed target? Annie Leonard, an environmental activist and filmmaker. About a year and a half ago, Leonard created a video called "The Story of Stuff," which has been viewed millions of times on YouTube. (It's also available on DVD, and a book is forthcoming.) The bulk of Leonard's presentation is explanatory: this is how all our stuff gets made, and this is where it goes when we toss it in the garbage. We have lots of stuff, Leonard says, but how often do we think about where it came from?
(As George Carlin once said, "Sometimes you gotta move, gotta get a bigger house. Why? No room for your stuff anymore. Did you ever notice when you go to somebody else's house, you never quite feel a hundred percent at home? You know why? No room for your stuff.")
Propaganda?
Since 2007, the video has been adopted by hundreds of schools across the nation as an educational tool. But Fox isn't buying it:
[Leonard] has an online hit with "The Story of Stuff," a 20-minute video that is being used in thousands of schools to explain America's dangerous obsession with material things — and one that some critics are calling a misleading diatribe against capitalism.
---